It is with great sadness that we share the unexpected passing of Melissa ISD employee, Libby Schnell, who was a third grade teacher at Harry McKillop Elementary. Ms. Schnell taught at Melissa ISD for more than a decade and was highly-regarded both as a person and as an educator, serving hundreds of Cardinals over the years. Most recently, Ms. Schnell was named the 2022 District Teacher of the Year for Melissa ISD.
We have notified our staff and the parents and guardians of Ms. Schnell's students regarding her passing. Our counselors from across the district, as well as local church leaders, are available for students and staff in need of support as they process and grieve going forward.
Our thoughts, prayers, and condolences go out to all who knew and loved Ms. Schnell.
If you would like to read Mr. Murphy's message that was sent to Melissa ISD employees regarding Ms. Schnell, follow this link: Sharing the Unexpected Passing of Libby Schnell.
---
A message from Libby Schnell's Family:
"We are so thankful for the outpouring of love from the community. Thank you for loving Libby as much as we love her. We all miss her terribly. Libby and her children read Charles Dickens every Christmas and she lived by her favorite quote, "Mankind was my business." In this lonely void that we now find ourselves, she would inspire us to do something kind for someone else.
You are welcome to join us for her services Saturday, Feb. 25, 2023 at 2 p.m., held at The Church of Jesus Christ of Latter-Day Saints chapel, 737 E. Melissa Rd., Melissa, TX 75454.
Visitation is on Friday, Feb. 24, 2023 from 6-9 p.m. at Turrentine Jackson Morrow Funeral Home, 2525 Central Expressway North, Allen, TX 75013."
In the photo below, Ms. Schnell is pictured with members of theBoard of Trustees and Dr. Robert Rich after being named District Teacher of the Year for Melissa ISD.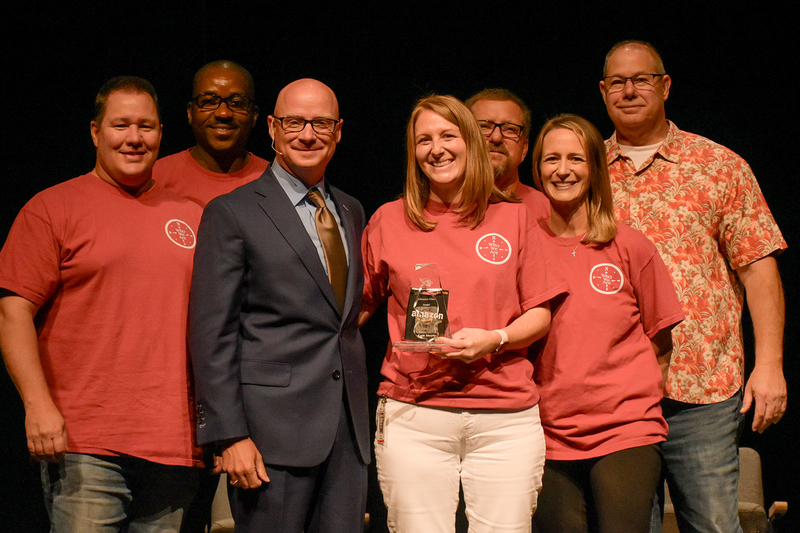 ---
This post will be updated if Ms. Schnell's family wishes for the district to share any additional information with the Melissa ISD community.