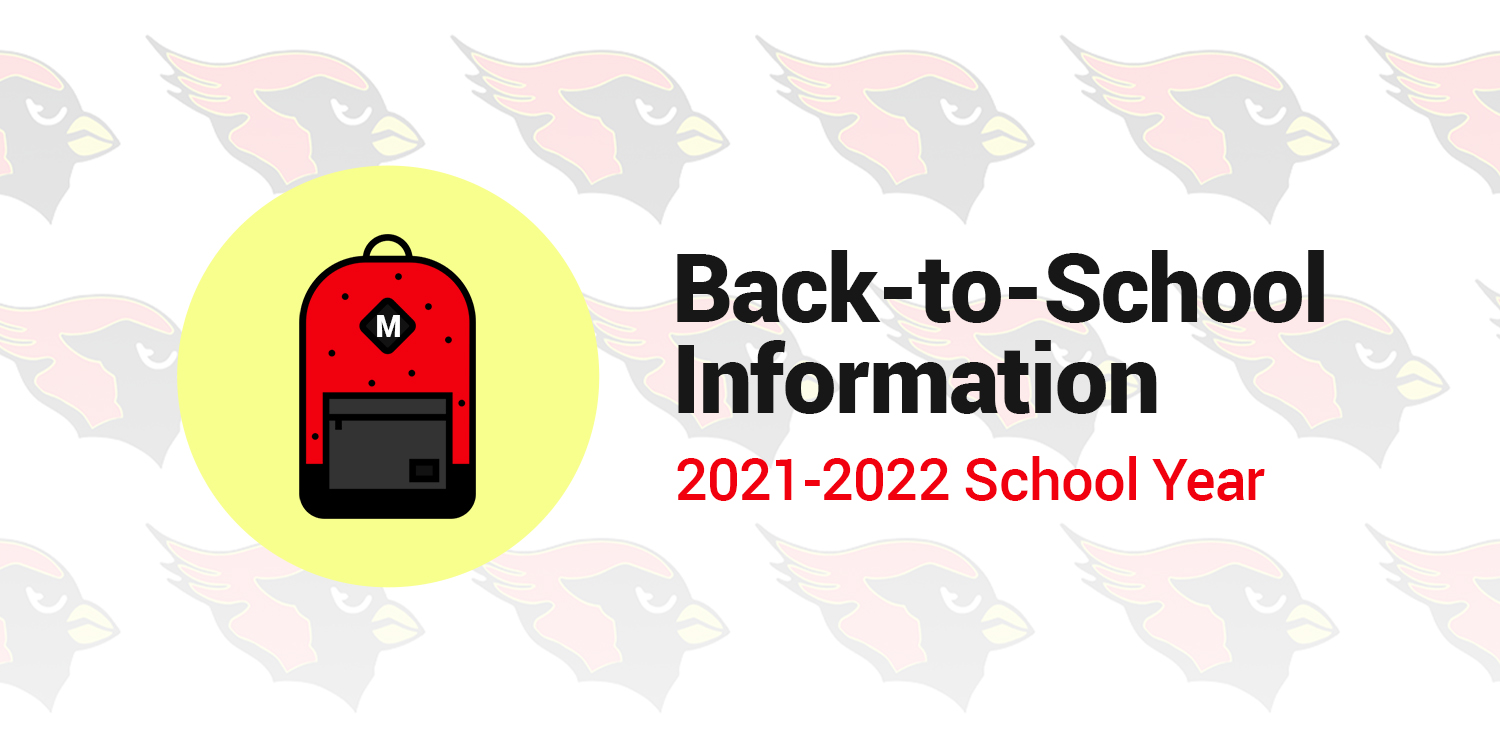 Melissa High School Back-to-School Information
Campus Leadership, Mission & Vision, School Day Hours & Location
Melissa ISD Academic Calendar for the 2021-2022 School Year
Melissa High School Bell Schedule & Red/White (A/B) Day Calendar
First Day of School: Tuesday, August 24th
Open House & Schedule Pick-Up
Thursday, August 12, 2021 from 5:00 - 6:30 p.m.
All Melissa High School students and parents/guardians are invited to attend Open House on Thursday, Aug. 12, 2021 from 5:00 - 6:30 p.m. to pick up their schedule, find their way around campus, and meet their teachers. This is a come-and-go event. Click here for more information.
Enrollment & Registration
Students who are new to Melissa ISD can be enrolled online at any time. Returning Student Registration opens July 19, 2021.
Questions regarding student enrollment and registration can be directed to the campus registrar beginning July 19, 2021.
Lisa Drinkwater
Campus Registrar
lisadrinkwater@melissaisd.org
972-837-4216
For urgent assistance, contact Monica Caldwell, PIEMS Coordinator, at mcaldwell@melissaisd.org or 972-837-2411.
Melissa High School students will receive information regarding school supplies during the first week of school.
Upcoming events for Melissa High School can be accessed through the school website by selecting Menu in the top navigation bar and selecting the Events icon, or in the campus Events section of the Melissa ISD mobile app.
All licensed students who wish to park on campus at Melissa High School during school hours are required to purchase a parking permit. For more information and to register for a parking permit, visit www.melissaisd.org/mhsparking.
Students who reside outside of the two-mile radius of the school are eligible to receive bus transportation. Visit the link below to learn more about Melissa ISD transportation services and to register your student for bus service.
School & District Communication
Melissa High School, as well as Melissa ISD, will send schoolwide and districtwide communication to parents and guardians via email, SMS text, and/or phone call throughout the school year.
If you are a primary guardian for your child, please make sure that your most up-to-date contact information is on file with the school.
Melissa ISD App
Melissa ISD has a dedicated mobile app to help families stay up-to-date with what's happening on campus, right from their phone. The app is a simplified version of the Melissa ISD website, with easy access to day-to-day highlights, upcoming events, cafeteria menus, documents, and staff information.
The Melissa ISD app is available to download for free by searching for "Melissa ISD" in the app store.
Social Media
We use social media to post daily happenings, important announcements, and helpful reminders.
Follow Melissa High School on social media using the links at the bottom of the page.
If you are not on social media, check out the Live Feed for similar updates (available on the website and in the Melissa ISD app).